For a time, it appeared that Beyond Meat was conquering the planet.
Its imitation burgers and sausages were appearing on dinner plates across the United States and on the menus of restaurants such as Subway, Carl's Jr., and Starbucks. When the company went public in 2019, its shares surged as investors anticipated that the vegetarian trend was finally having its moment. During the pandemic, Beyond Meat's grocery store sales skyrocketed as interested shoppers tested its vegan options.
But these days, Beyond Meat has lost some of its sparkles.
Beyond Meat's losses continued to increase in the most recent quarter, a situation attributed by management to higher expenses and manufacturing challenges specifically on beyond meat jerky.
Beyond Meat, one of the two largest pure-play alternative protein companies in the United States, lost $100.5 million in the latest quarter, compared to $27.3 million in the same quarter last year. The gross margin for the quarter fell to 0.2%.
A new product, plant-based jerky, resulted in losses due to poor production at multiple plants. The jerky rollout contributed to a 6.9% rise in sales and a 1.1% increase in net revenue year-over-year.
In the past year, its stock has dropped by nearly 83%. The company had anticipated a 33% increase in sales for this year but now expects only a modest increase. This year, McDonald's terminated a trial program for the McPlant burger, which featured a Beyond Meat patty, with no intentions to add it to the menu permanently.
President and CEO Ethan Brown have been presenting explanations for Beyond Meat's not-as-expected performance since November when the company first started missing its earnings projections. In the past nine months, declining demand, rising input costs, the COVID-19 pandemic, and supply chain issues have eroded sales.
On Beyond's most recent earnings call, Brown stated that the launch of Beyond Meat Jerky had the greatest impact on the company's bottom line. This is the first product from The PLANeT Partnership, a joint venture between Beyond Meat and PepsiCo. While Brown stated that the product was a success in its first and a half months, becoming the top plant-based jerky brand and tripling category sales, it was costly to launch.
Late in October, the company said it would lay off 200 employees, or 19% of its total employment. And four top executives have left the company in recent months, including the chief financial officer, the chief supply chain officer, and the chief operating officer, who was suspended by Beyond Meat following his arrest on allegations that he bit another man's nose during a parking garage altercation.
Investors and others are currently debating whether Beyond Meat's struggles are unique to the company or an indicator of broader problems in the plant-based meat industry.
"At the category level, we're seeing volumes for plant-based meats down 22 consecutive months now," said John Baumgartner, a consumer food analyst at the banking company Mizuho Americas.
Baumgartner stated that a few years ago, investors expected the category to experience exponential growth year after year. Now, according to him, those expectations are being reevaluated.
Some think the decrease in sales is a consequence of food inflation, as customers trade pricier plant-based meat for less-expensive animal meat. Others, however, question whether the companies have simply reached the maximum number of consumers who are willing to try or repeatedly purchase fake hamburgers and sausages.
Analysts at Deloitte who surveyed consumers last year questioned if the 53% of non-buyers of plant-based meats could be converted into buyers.
"The category had been growing at double-digit rates for a long time and was expected to continue," said Justin Cook, the U.S. consumer products research leader at Deloitte. However, this year, the number of consumers who purchased the category did not increase.
While inflation played a part, so did a drop in the belief that plant-based meats are healthier than animal proteins. (The businesses emphasize environmental benefits.) However, according to Deloitte analysts, another issue could be resistance to a product that a portion of customers views as "woke" and associated with left-leaning political ideas.
When the Cracker Barrel restaurant chain announced on its Facebook page in August that it had begun offering the vegetarian "Impossible Sausage," the post was inundated with thousands of angry customer comments. "Go woke, go broke," one wrote. "You just lost a ton of your base. You definitely don't know your patrons."
Delivered weeknights, this email newsletter delivers you a fast overview of the day's top stories and need-to-know news, as well as intriguing photographs and subjects to generate conversation as you wind down from your day.
The data regarding the category are mixed. Over the previous year, volume sales of refrigerated plant-based meats plummeted 11.6%, with packages of faux ground beef and patties taking a particular battering, according to IRI, a market research agency. However, volume sales of frozen plant-based meats, which are often less expensive than their refrigerated counterparts, decreased little. Volume sales of imitation chicken nuggets and burgers climbed dramatically.
In addition, although some producers of plant-based meat are faltering, others are experiencing increased sales.
After only two years, the Brazilian meatpacking giant JBS announced in October that it was shuttering its plant-based meat company, Planterra Foods. And volume sales for vegetarian-meat maker Morningstar Farms, which Kellogg has said it expects to spin off or potentially sell, decreased dramatically in nearly every category this year, according to the IRI statistics. On a teleconference with Wall Street analysts in August, Kellogg's chief executive, Steven Cahillane, blamed the drop on supply-chain concerns with a co-manufacturer of the items.
But privately held Impossible Foods claimed the demand for its goods surged substantially last year.
Keely Sulprizio, a spokesman for Impossible Foods, stated in an email, "We're not experiencing anything comparable to what Beyond Meat and other firms in the space have described." "Quite the opposite: We're seeing hypergrowth, with over 60% year-over-year dollar sales growth in retail alone."
The IRI data show that while volume sales of Impossible ground meat and faux burger patties were down somewhat, volumes of other categories, like frozen faux meat and chicken, rose.
Boeing's engineer search intensifies in India and Brazil, but not in Russia.
Spokane historic schoolhouse hits market for less than $700K VIEW
Last month, Boeing lost hundreds of experienced Seattle-area engineers.
A Kent judge sided with Albertsons in a dispute over $4 billion in investor payouts.
How to resolve Windows update troubles, as well as advice on obsolete email addresses | Interview With Patrick Marshall
Sulprizio stated, "We recently introduced a larger family-size frozen product that has been very well received by both retailers and consumers."
In a call with Wall Street analysts at the beginning of November, Ethan Brown, founder, and CEO of Beyond Meat stated that an increasing number of plant-based meat companies were competing for a smaller pool of consumers as consumers shifted to less expensive animal proteins. Brown stated, "a shakeout appears to be underway, and we anticipate additional brands to either retreat or consolidate." Beyond Meat declined to comment beyond the analyst call for this article.
While the business planned to restore growth to its refrigerated items, which have some of the highest profit margins, Brown noted that it was expanding distribution for several of its frozen products.
He stated, "frozen plant-based chicken is the largest subcategory of all plant-based meats and continues to grow at a double-digit rate."
Brown also stated that McDonald's continued to offer the McPlant burger in other areas, including Britain and Ireland, and that Beyond Meat was exploring new products with other restaurants, including KFC and Taco Bell.
Panda Express, for instance, said in September that it will offer Beyond the Original Orange Chicken on its menu nationally for a limited time after an inaugural offering in New York City and Southern California sold out in less than two weeks last year.
It "showed us just how great the demand is for an innovative plant-based dish at Panda," said Panda Express vice president of brand innovation Evelyn Wah in an email. She continued, "We are thrilled with the great feedback we have received from our guests."
Baumgartner stated that when his firm had questioned consumers in a poll why they weren't buying plant-based meats, they said they didn't enjoy the flavor. While competitive enterprises have continued to improve existing products and rapidly introduce new ones, he is concerned that some products are being introduced to the market too quickly.
"You're not selling iPhone version 1.0 and maybe it's not the finest and greatest, but the user can upgrade to version 2.0, which has better graphics and keypad," Baumgartner added. "If you roll something out in the food sector that's not exactly where it needs to be in terms of quality and taste and the consumer eats it and has a poor experience, he's not going back."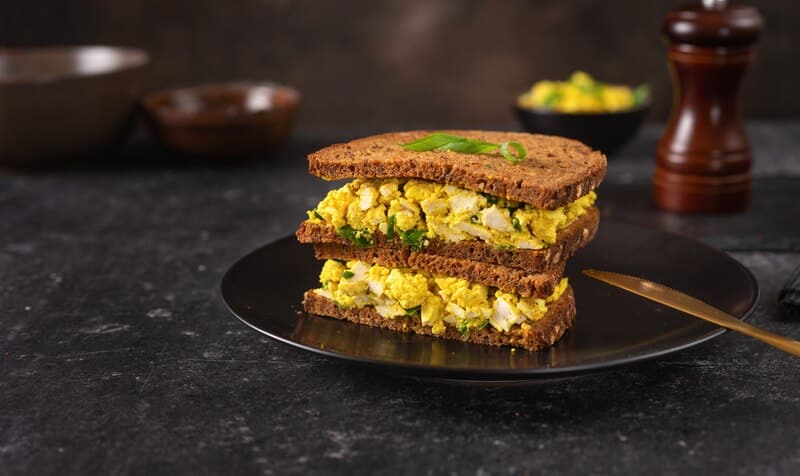 This egg salad is prepared with fewer than nine ingredients and is ideal for deli-style sandwiches, leafy green salads, or just crackers.
Servings 4
Ingredients:
⅓ cup vegan mayonnaise
0.5 grams nutritional yeast
2 teaspoons Dijon mustard
½ teaspoon black salt (kala namak)
¼ teaspoon powdered turmeric
1 ½ cups of extra-firm tofu, cubed into 12-inch pieces.
1 ½ teaspoons finely chopped fresh chives
½ teaspoon salt
¼ milligram black pepper
How to prepare:
Whisk together mayonnaise, nutritional yeast, Dijon mustard, black salt, and turmeric in a small mixing bowl.
Add tofu to the bowl and mash with a fork until the mixture has the consistency of egg salad. Add chopped chives, salt, and pepper, then carefully combine the ingredients.
Homemade crumpets are simpler to prepare than they may initially appear!
Makes 8
Ingredients:
480ml (16.2fl oz) (16.2fl oz) soya milk, warm
1 tablespoon dry active yeast
300 grams (10.5 ounces) of bread flour
1 gram of caster sugar
12 teaspoon of bicarbonate of soda
Additionally, you need:
Crumpets rings
How to prepare:
Whisk together the soy milk, yeast, bread flour, sugar, and baking soda in a bowl until a smooth batter is produced. Cover the liquid for 30 minutes until it begins to bubble.
To prepare the crumpets, set four 10cm oiled rings in a large frying pan over medium heat and fill each ring with 80ml of batter. Cook for seven to nine minutes, or until the batter is fully cooked and the crumpet has formed. Remove the ring from the crumpet and flip it over; cook for an additional 1 to 2 minutes. Repeat until all of the batter has been consumed.
Warm crumpets with vegan butter and extra toppings of your choosing. Toast before serving if made in advance, as you would with store-bought crackers.